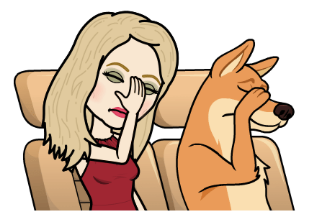 So you think it's just, pick a house, buy the house, and move into the house? Think again! Here is a little story that recently happened to my sellers to show you that I cannot make this stuff up when it comes to real estate.
One of my sellers was under contract. (She is old enough to be my mother)
The deal was moving along smoothly and the lender had even waived the appraisal because of the amount the seller was putting down and we were getting closer to the closing date. Seller had packed her things and was ready to close before she left town.
A few days before closing the lender called and said they needed a little more time. I asked what is the problem?

Well, right before closing, guess what lenders do, they double, triple check everything! For example, making sure the buyer hasn't quit their job, making sure all the funds are available…… the buyer had decided to pay cash to purchase a vehicle a few days before closing and did not have enough for closing!!
Well my seller was not very happy to hear this new information to say the least she said "no way let's move on, will just put it back on the market…" I told her we have gotten this far down the road let's give them a few days….. ( everyone remain calm!! )
We agreed to a two extension, meaning, we would give the buyer some more time but they needed to figure out what they were going to do to get the funds back in the bank.
Of course, my seller had already packed up their home and had planned to leave the day of closing…. and you can just imagine how upset the seller was!
Good news did come through a few days later and the funds were back in the bank and everything was back on!
What happened next….I cannot even make this up! The buyers live in Austin so a notary had gone to meet at their home to have them sign all the paperwork, but the buyer's dog literally bit and tore the notary's pant leg and the notary felt very unsafe, and feared for their life!!! So halfway through closing he packed up the paperwork and left. WHAT??? Meanwhile my seller had already left town and was signing the paperwork with their notary and their part was already done!
We had to do another extension for the next day, and make sure that the seller got to the title company the next day, and, of course, make sure they did not bring their dog to closing to complete the signing.
I'm telling you, nothing is ever normal. Every deal has something going on in the background, things do go sideways and it's my job to keep everyone calm, protect them from animals and make sure we get to hear those magic words….THE DEAL HAS FUNDED!!